TV News
Glenister: 'BBC, ITV interfere too much'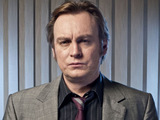 Philip Glenister
has complained that the BBC and ITV interfere too much in programmes.
The former
Ashes To Ashes
star, who is
moving
to Sky1 to appear in new series
Mad Dogs
, claimed that shows should be allowed to develop without suggestions from executives.
Speaking after the Sky1 press launch, he said: "The problem with the BBC and ITV is that there are so many levels of people coming in and telling you how to do things.
"There's too many generals who don't leave you to get on with it. Sometimes there's a nanny thing going on - it's something they need to have a look at. It's about self-censorship as well. We're big enough to know when we've pushed the boundaries too far."
However, Glenister also
insisted
that he is still a big supporter of the BBC.
> Philip Glenister regrets 'Demons' role