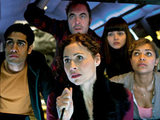 The BBC's new five-part drama
The Deep
opened to just under 5m viewers on Tuesday night, according to the latest audience data.
The first episode of the mini-series, which stars
James Nesbitt
and Minnie Driver, averaged 4.98m (21.9%) for BBC One in the 9pm hour. An impressive 287k (1.3%) also watched the programme on BBC HD.
New Who Wants To Be A Millionaire?
appealed to 3.89m (17.6%) on ITV1 in the 8pm hour, but the revamped gameshow was outperformed by
Holby City
, which took 5.14m (23.2%) on BBC One.
The Bill
grabbed 2.63m (11.6%) for ITV1 in the 9pm hour, before
Ladette To Lady
pulled in 970k (7.8%) between 10.45pm and 11.45pm. Earlier on ITV1,
Children's Hospital
secured 2.48m (11.9%) from 7.30pm.
EastEnders
took the biggest soap audience of the night, with 8.22m (39.6%) watching on BBC One between 7.30pm and 8pm. The show pulled in a further 993k (4.9%) when it was repeated on BBC Three from 10pm, which was the largest multichannel audience of the night.
Wainwright's Walks: Coast To Coast
averaged 1.25m (6.7%) on BBC Two from 7pm, before
Mastermind: Champion Of Champions
took 2.09m (10.1%).
A repeat of
Top Gear
pulled in 2.11m (9.5%) for BBC Two in the 8pm hour, before
That Mitchell And Webb Look
and
Shooting Stars
secured respective audiences of 1.31m (5.8%) and 1.28m (5.6%) in the 9pm hour. Sitcom
Miranda
grabbed 1.13m (5.6%) between 10pm and 10.30pm.
The Ugly Face Of Beauty
averaged 1.28m (5.8%) for Channel 4 in the 8pm hour, with a further 152k (0.7%) watching the show on Channel 4 +1.
Who Know's Best: Can't Sleep Kids
took 1.8m (7.9%) in the 9pm hour and 200k (1.1%) on timeshift. It was followed by
Big Brother
, which pulled in 2.19m (12.5%) from 10pm and 207k (2.3%) on timeshift.
Michaela's Zoo Babies
appealed to 395k (1.9%) on Five between 7.30pm and 8pm, before documentary
Bermuda Triangle: The Mystery Revealed
took 2.17m (9.8%).
CSI: Miami
grabbed 2.23m (9.8%) for the channel from 9pm.
Overall, BBC One dominated primetime with 23.7% against ITV1's 14.8%. Five impressively came third with 7.4%, followed by BBC Two and Channel 4 jointly with 7.3% (C4 +1: 0.7%).
Elsewhere, BBC Three documentary
Glamour Models, Mum & Me
was watched by 781k (3.4%) in the 9pm hour, which was the third biggest multichannel audience of the evening.
BARB ratings data supplied by Attentional