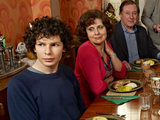 Simon Amstell
's new comedy
Grandma's House
opened to more than 1.5m viewers on Monday evening, according to overnight audience data.
Starring Amstell, Linda Bassett and Geoffrey Hutchings, the show's first episode averaged 1.56m (7.6%) on BBC Two between 10pm and 10.30pm.
An edition of
Who Do You Think You Are?
starring gardener Monty Don was watched by 5.4m (22.3%) on BBC One from 9pm.
The programme comfortably beat
Identity
in the 9pm hour, after the crime drama pulled in just 3.28m (13.5%) on ITV1 and 147k (0.6%) on ITV1 HD.
On BBC One,
Cowboy Trap
took 2.99m (14.3%) between 7.30pm and 8pm, before
Panorama
averaged 3.54m (15.2%) from 8.30pm. Later on the channel, factual series
Gears And Tears
grabbed 1.58m (10.4%) between 10.45pm and 11.15pm.
The second part of documentary mini-series
Our Drugs War
appealed to 780k (3.4%) on Channel 4 in the 8pm hour and 137k (0.6%) on Channel 4 +1. The programme was followed by
The Hospital
, which took 1.73m (7.2%) and 188k (1%) on timeshift.
Big Brother
was watched by 2.26m (12.6%) on Channel 4 between 10pm and 11.10pm, and 151k (1.6%) on Channel 4 +1.
Wainwright's Walks: Coast To Coast
averaged 1.17m (6%) from 7pm, before
Roger And Val Have Just Got In
took 980k (4.7%).
University Challenge
and
Antiques Master
secured respective audiences of 2.52m (11%) and 1.85m (8%) on BBC Two in the 8pm hour.
Dragons' Den
pulled in 2.78m (11.5%) for the channel from 9pm.
Cricket On Five
attracted 635k (3.1%) to Five between 7.15pm and 8pm hour. It was followed by the return of
The Gadget Show
, which averaged 1.28m (5.6%), up 230k week-on-week.
A screening of action film
Collateral Damage
appealed to 1.58m (7.6%) on Five between 9pm and 11.15pm.
Overall, BBC One narrowly won primetime with 21.3% against ITV1's 21.2%. BBC Two came in third with 8.6%, followed by Channel 4 with 6.3% (+1: 0.7%) and Five with 5.7%.
Elsewhere, a new episode of
Britain's Next Top Model
was watched by 242k (1%) on Living in the 9pm hour, down 81k week-on-week.
> Click for last night's soap ratings
BARB ratings data supplied by Attentional