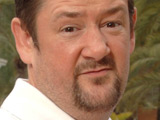 Johnny Vegas
has revealed that he is fixated with daytime TV programmes.
Speaking to
Bang Showbiz
, the comedian was particularly complimentary of BBC One property show
Homes Under the Hammer
, which airs on weekdays at 9.45am.
He said: "I don't tend to put the telly on in the morning because once it's on, it stays on. I'm not strong enough to watch half an hour and turn it off.
"If
Homes Under the Hammer
gets me, I'm in it for the long haul. Suddenly it's evening and I'm still sitting there. All because of my love of cheap property."