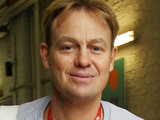 Jason Donovan
's appearance on
Who Do You Think You Are?
was watched by more than 4.9m viewers on Monday night, according to the latest audience data.
The programme, which featured the former popstar tracing his family history on his mother's side, averaged 4.96m (19.7%) on BBC One in the 9pm hour.
Over on ITV1,
Agatha Christie's Marple
brought in an impressive 4.59m (20.2%) between 9pm and 11pm, with 136k (0.6%) tuning in on ITV1 HD. Earlier on the channel,
Countrywise
took 4.1m (16.8%) from 7.30pm and 132k (0.5%) in HD.
The One Show
was watched by 3.79m (20.6%) on BBC One between 6.30pm and 7pm, down 500k week-on-week, before coverage of the
Edinburgh Military Tattoo 2010
grabbed 3.92m (18.2%) in the 7pm hour.
Panorama
averaged 2.4m (9.6%) for BBC One from 8.30pm.
Over on BBC Two,
Dan Snow's Norman Walks
brought in 1.52m (7.4%) from 7pm, before a repeat of
Roger And Val Have Just Got In
took 790k (3.5%).
University Challenge
and
Antiques Master
secured respective audiences of 2.55m (10.5%) and 2.05m (8.2%) on BBC Two in the 8pm hour.
Dragons' Den
pulled in 2.73m (10.8%) for the channel from 9pm, before a new episode of Simon Amstell's sitcom
Grandma's House
averaged 1.22m (5.5%) from 10pm.
Dispatches: Britain's Secret Slaves
mustered 1m (4.3%) on Channel 4 in the 8pm hour and 179k (0.7%) on Channel 4 +1. The programme was followed by drama
I Am Slave
, which took 1.21m (4.8%) and 197k (0.9%) on timeshift.
Ultimate Big Brother
was watched by 2.1m (10.8%) on Channel 4 from 10pm and 236k (2.3%) on Channel 4 +1.
Over on Five,
The Gadget Show
averaged 1.19m (4.8%) in the 8pm hour, before a screening of
Jerry Maguire
pulled in 618k (3.1%) for the channel between 9pm and 11.45pm.
ITV1 won primetime with 25.4% (HD: 0.7%) against BBC One's 19.4%. BBC Two came in third with 7.9%, followed by Channel 4 with 5.7% (+1: 0.8%) and Five with 3.1%.
Elsewhere, a screening of James Bond film
Casino Royale
secured the biggest multichannel audience of the night, with 908k (4.8%) watching on ITV2 from 9pm and 210k (1.7%) on timeshift.
BARB ratings data supplied by Attentional