TV News
Schofield: 'I couldn't beat The Cube'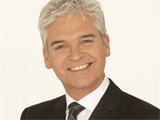 Phillip Schofield
has said that he does not think he would be able to beat The Cube as a contestant.
Speaking to
What's On TV
, the 48-year-old said that the intensity of the show often leaves him unable to sleep after filming.
He said: "
The Cube
is the most intense show I host. When I get home I find it difficult to get to sleep because of the adrenaline pumping through my body!
"People are winning and losing life-changing amounts of money. This year, one man actually lifted me up above his head and spun me round when he won."
When asked if he thought he could successfully overcome the contestants' challenges, he replied: "No. [The Cube] finds your weaknesses and tricks you into thinking you can do stuff that you can't. It's very clever.
"I reckon I could take a few thousand pounds out of it, but I'd stand about as much chance as everybody else."
A new series of
The Cube
starts tonight at 6.45pm on ITV1.