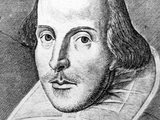 The BBC is reportedly planning to spend £10m on a
William Shakespeare
season.
According to
The Daily Telegraph
, programming will include a series of documentaries examining the writer's life and work.
Meanwhile, five plays will be adapted for the screen and one will be performed live over three hours. High-profile actors are expected to take part in the productions.
The BBC's head of television Jana Bennett will announce the season in a speech later today, saying: "The BBC will be celebrating Shakespeare's work and living legacy as part of 2012, one of the biggest cultural festivals the world has ever staged.
"Part of the BBC's remit is to celebrate the best of all that is British and that is what uniquely allows us to create such a culturally important and rewarding season."
Meanwhile, a BBC source reportedly said: "Everyone is incredibly excited about this. Although the BBC has screened Shakespeare plays over the years, there has never been an entire season devoted to his work. The live broadcast has the potential to be one of the biggest things on television in 2012."
The Shakespeare season will take place in 2012 across BBC One, BBC Two and online.