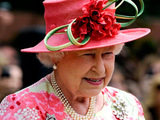 The BBC is reportedly planning an evening of live programming to mark the 60th anniversary of the coronation.
The Guardian
says that all of the programmes during one night in 2013 will be broadcast live.
The event is aimed at recapturing the moment when the BBC offered live television coverage of the coronation in 1953.
The BBC's director of vision Jana Bennett said: "To commemorate both the day the nation tuned into the BBC for the Queen's coronation - and our final year broadcasting from Television Centre - we'll go live for a night on BBC One. Every programme in the schedule will have the vitality and ambition I witnessed at Elstree [during the
EastEnders
live episode] earlier this year."
The BBC has not yet revealed which programmes will be broadcast live but said that a number of genres, including drama and entertainment, will be covered.
Yesterday, it
emerged
that the BBC is planning to broadcast a live production of a Shakespeare play in 2012.