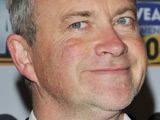 Harry Enfield
has admitted that he feared the rise of Ricky Gervais had finished off his own career.
The comic, who is famous for characters such as Kevin the teenager and Tim Nice-But-Dim, worried that Gervais's style of comedy in
The Office
was the death knell for his brand of sketches.
He said: "I thought we were past it, because everything was so cool. With Ricky coming up with his amazing, just so well-observed, comedy. I think what we did was well-observed too, but he got the ultimate thing to observe - an office - that I just thought it was much cleverer.
"It didn't have any jokes, it was just painfully truthful and embarrassing and really, really funny so I thought, 'That's it, I'm over.'"
According to
PA
, Enfield credits Matt Lucas and David Walliams's
Little Britain
with encouraging him to continue in comedy.
He continued: "Then
Little Britain
came along, and that was fantastically uncool and everyone loved it, so I thought, 'Oh good,' so we got back into it.
"I love
Little Britain
, I wouldn't have started doing all this again if it wasn't for
Little Britain
."
A new series of
Harry and Paul
begins tomorrow at 9.30pm on BBC Two.