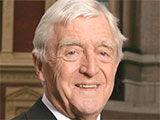 Sir
Michael Parkinson
has slammed the "foolish ambition" of celebrity talkshow hosts.
The veteran broadcaster said that a large number of the current crop of chatshow hosts did not know how to perform in the role, singling out Graham Norton for praise but admitting that he was the perfect example of the current problem.
Parkinson lamented in the
Radio Times
: "Sadly, I think the conversational talkshow has had it. It's not what today's commissioners want.
"Graham Norton perfectly demonstrates the kind of talkshow where the host has more to say than the guests and ITV may have made a mistake moving Paul O'Grady into a 9pm slot. What was perfect at 5pm sits less comfortably at peak time and gifts a sitting duck for competing schedulers."
The 75-year-old added that television producers were to blame for promoting even "fringe" celebrities to the chatshow host role - despite their inability to get the best out of their guests.
He said: "The trouble with the talkshow is everyone fancies their chances. Even those on the extreme fringes of the ever-expanding world of modern celebrity reckon it's a doddle.
"They are encouraged in their foolish ambition by television executives who really ought to know better than to entrust the job to people who, more often than not, neither know how to ask a question nor listen to the answer."
However, Parkinson admitted that some hosts deserved praise for their stints as interviewers.
He added: "For some, like Russell Harty, Clive James, Michael Aspel, Terry Wogan, Clive Anderson, Jonathan Ross, Graham Norton and Piers Morgan, it proved the perfect showcase for their disparate talent. For others it became the Bermuda Triangle of television."