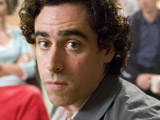 Stephen Mangan has admitted that he feels the pressure of playing Dirk Gently in a new BBC Four drama.
It was
confirmed
in October that the actor had been cast as Gently in a loose adaptation of the Douglas Adams novels.
"I do feel pressure that there's a big fanbase," he told
SFX
. "I played Adrian Mole years ago and I felt a similar pressure [then] because it's almost as if you're playing a real person, but a real person who everyone thinks looks different, [imagines] in a slightly different way, or who they've got a different idea of."
Mangan suggested that the show's humour would help to differentiate it from other detective series.
"If it's not funny it will have failed, because there are a lot of detective stories out there and they're already well covered for serious, flawed detectives," he said. "So what this brings is the quirkiness, the oddness, the intelligence, the wit [and] the strangeness."
The former
Green Wing
actor also joked that his co-star Darren Boyd's tall stature was "quite annoying".
"The central dynamic of the whole show is me and Darren," he explained. "They're like a double act. We get on very well [in real life] but he's six foot four [so] I'm going to look very short."
Dirk Gently
airs this Thursday at 9pm on BBC Four.