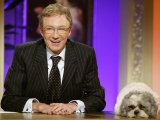 Paul O'Grady has accused ITV of being "petty" following a row over his dog Buster.
The chat show host is moving to Channel 4 with the shi-tzu and wishes to continue making models of him to give away to viewers, however ITV are claiming that they own the dog's image rights.
"I was lying ill in bed when I heard they'd said we couldn't make more models. I thought I'd had too much Night Nurse," O'Grady told Liverpool's Radio City.
"ITV are being petty saying they're keeping the mould but I'll just ask them how much it is and buy it off them. Or we'll just make a new mould. I've heard nothing back from them on this. He's my dog. He's not a prop and I'm taking him. All I've done is go to Channel 4. I've defected like Nureyev."