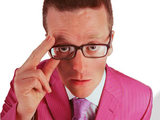 Frankie Boyle
has been criticised for using racially derogatory language on his Channel 4 show.
The comedian - who caused
controversy
earlier this month when he joked about Katie Price's disabled son Harvey - was condemned for using the terms "n***er" and "p**i" on this week's edition of
Tramadol Nights
.
Politicians and anti-racism campaigners have now called on Channel 4 to take action over Boyle's comments, although the broadcaster has insisted that the comedian's use of the words was intended to "highlight the unacceptable nature" of such terms, not to endorse them.
During a monologue on war on Tuesday night's programme, Boyle said: "What gets me is our callousness as a society when we read out our dead on the news first, because our lives are more important. Other people's aren't worth as much."
Assuming the tone of a newsreader, he added: "A bomb went off in Kandahar today, killing two British servicemen, three UN relief workers and a whole bunch of p**is."
Later, he joked: "The Ministry of Defence? At least in the old days we were honest - it was the Ministry of War! 'Hello, Ministry of War, department of n***er-bombing, how can I help?'"
Boyle's show also included a sketch in which a woman dressed as Super Mario danced provocatively before waving to the camera and saying: "Hello to p**is everywhere."
Conservative MP John Whittingdale - Chairman of the Culture, Media and Sport Select Committee - called on Channel 4 to investigate the matter.
He said: "The words 'n***er' and 'p**i' are deeply offensive to a large number of people. I don't think even in comedy it is justified.
"Frankie Boyle is becoming a serial offender. I really think Channel 4 will have to think whether it's appropriate to screen programmes which are regularly causing offence to a lot of people. It might be a breach of the Broadcasting Code. Ofcom will have to determine that."
However, a Channel 4 spokesman insisted: "Channel 4 strongly refutes any suggestion we are endorsing or condoning racist language by our broadcast of
Frankie Boyle's Tramadol Nights
.
"This cutting edge comedy is clearly intended to ridicule and satirise the use of these words - Frankie Boyle was not endorsing them. Channel 4 would not have broadcast these words had they been used in a racist way. All the jokes highlight the unacceptable nature of this language."
The spokesman also confirmed that the broadcaster had received one complaint of racism following the programme's transmission.
> Reid: 'Ch4 must apologise for Boyle show'