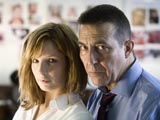 Above Suspicion
star
Kelly Reilly
has suggested that her character DI Anna Travis could have a romance in the new three-part series.
The actress told
TV Choice
that there was "a lot of potential" for Travis to find love with boss DCS James Langton (Ciaran Hinds).
"No-one's turned her head other than Langton," she explained. "I think her focus is on him, even though she's unaware of it [and] it's unconscious."
She added: "He's not trying it on with her all the time. She respects that and it's a relief. It's just very natural with them."
Reilly went on to say that the pair have a "confusing" relationship.
"I don't think [Travis] really knows what she feels for him," she claimed. "It can be easily related to [just] sexual chemistry, but what i like about it is that it's kind of real. It's not like two people who you'd expect to fall for one another."
Above Suspicion: Deadly Intent
will begin on January 3 on ITV.