TV News
Tina Malone: 'Lesbian plot was a shock'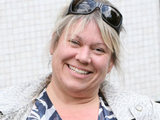 Tina Malone
has admitted that was shocked to discover that Mimi Maguire would become sexually involved with another woman in the new series of
Shameless
.
The actress previously
revealed
that she had to film the bedroom scenes on her first day back to shooting for the series, which began on Channel 4 earlier this week.
"Put it this way," she told
The Mirror
. "It came as a bit of a shock.
"Mimi has had her fair share of sexual encounters, including one with a 14-year-old boy she thought was 18.
"She's never gone to bed with another woman, though, but it's clear that she relishes the opportunity this time around. Like a lot of
Shameless
, the sex between the two women is pretty full-on."
Shameless
continues tonight at 10pm on Channel 4.
> Tina Malone reveals Shameless storyline