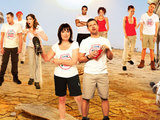 Celebrities including
Olly Murs
and Peter White have faced new difficulties as they continue the BT Red Nose Desert Trek.
The group added another 16 kilometres to their total as part of the fundraising challenge across the Kaisut Desert in Kenya. Singer Murs has suffered with a painful case of chafing on his legs and groin, which he described as "a severe case of nappy rash".
"I've got a lot of chafing on my legs and it's really painful," he said. "I keep applying lubricant and cream to soothe it each morning but as soon as I put it on, we've got to start walking and the chafing starts all over again."
Radio 4 presenter White had to pull out of the walk at one stage and return to base camp to receive medical treatment for blood in the blisters on his feet.
A determined White commented: "Come hell or high water I'm going to finish this trek on Friday. The medic that looked at my feet, who happens to be an ex-soldier, said he's seen squaddies removed from battle for having feet as bad as mine."
The stars have all suffered with blisters as they continue the trek in temperatures over 100 degrees Fahrenheit.
Dermot O'Leary had his blisters drained, while Scott Mills had to have his feet taped up. Lorraine Kelly and Nadia Sawalha have also suffered from mouth ulcers.
The group, who are being filmed for a BBC One documentary which will be broadcast prior to Comic Relief next month, have now reached the halfway mark, having completed 50 kilometres over the three days. Fans of the celebrities can continue to donate money via rednoseday.com/trek.
> Tointon breaks down on Comic Relief trek