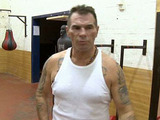 Big Fat Gypsy Weddings
star
Paddy Doherty
has reportedly been challenged to a boxing match with a £100,000 prize.
According to
The Mirror
, the 51-year-old has been offered a fight by fellow Irish traveller Johnny Joyce, who was in court last week
accused
of grievous bodily harm against Doherty.
The fight could take place in June at the annual Appleby Fair in Cumbria, with an audience of around 4,000 people. Boxing promoter Wayne Barker is putting up half of the prize money and wants Doherty to find a backer to offer the other half of the winnings.
Barker said: "We don't want war-mongering in the community. Let's do it the proper way - the way these people have done it for years - and settle it in the ring.
"This is Paddy Doherty's chance to redeem himself in his own culture. If he had taken his beating like a man that would have been an end to the story."
Joyce was cleared of all charges by a jury at Manchester crown court after insisting that he had acted in self-defence.