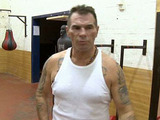 Big Fat Gypsy Weddings
favourite
Paddy Doherty
has vowed to exact revenge on Johnny Joyce, a fellow traveller who left him minutes from death after a vicious brawl.
The 52-year-old and his family are currently under police protection after receiving
death threats
for accusing Joyce of grievous bodily harm, rather than settle the matter away from the authorities.
Speaking to the
Daily Star
, Doherty confirmed that he will fight alongside his sons Simey and David in a televised
rematch
with Joyce at Cumbria's Appleby Fair, which will see the victor awarded £50,000.
He said: "We will settle this the traditional way. It is the only way to end it. It's not about money or TV or boxing promoters. It's about settling things once and for all.
"Johnny Joyce is a sausage. When he went for me I'd been drinking for three days. I'm 30 years older than him. And he hit me when I wasn't looking. That is a disgrace. Next time I will be looking and I will be ready. I am willing to fight to my last breath."
He added: "It won't be pretty... they have picked on the wrong man. It will be gloves off, bare-knuckle. But turn up early. I've seen the Joyces and a good cough will knock them over."
Doherty also clarified rumours regarding his first run-in with Joyce, insisting: "I didn't call the police. My jaw was broken. I couldn't talk. The police got involved because the attack was so serious. They thought it was going to be a murder."
Doherty's wife Roseanne further stated: "Looking back, I don't think we should have done it... It seems to have brought a lot of trouble to our door."
A source close to the Joyce family responded to Doherty's challenge by vowing: "There is £50k on the table. We will beat them any time, any place, anywhere."