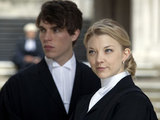 Silk
remained popular in primetime on Tuesday evening, beating Caroline Quentin's new travel series on ITV1, the latest audience data has revealed.
The six-part legal drama series, starring Maxine Peake and Rupert Penry-Jones, continued with 4.84m (19.4%) on BBC One in the 9pm hour. The show easily outperformed
Caroline Quentin: A Passage Through India
, a three part mini-series on the actress's 3,500 mile journey from India's north to its southernmost point, which had 2.39m (9.7%) on ITV1 and 123k (0.7%) on +1.
Silk
was also too strong for
Heston's Mission Impossible
, which cooked up 1.86m (7.5%) on Channel 4 in the 9pm hour and 239k (1.4%) on timeshift.
Earlier,
The One Show
entertained 4.94m (22.7%) on BBC One from 7pm, while
Grimefighters
had 2.79m (11.9%) on ITV1 from 7.30pm. BBC One's
Holby City
fetched 5.91m (25%) in the 8pm hour, beating
Lion Country
's 2.15m (9%) on ITV1.
Over at BBC Two, a repeat of
Wonders Of The Universe
captivated 1.47m (6.5%) in the 7pm hour, before
The Hairy Bikers: Mums Know Best
entertained 2.24m (9.3%) from 8pm.
Horizon: Predators In Your Backyard
educated 1.63m (6.5%) in the 9pm hour and
Charlie Brooker
's
How TV Ruined Your Life
amused 960k (5%) from 10pm.
Channel 4's
Coach Trip
rumbled on with 1.72m (10.8%) from 5.30pm and 265k (1.3%) on +1. Later,
Gok's Clothes Roadshow
had 1.77m (7.4%) in the 8pm hour and 182k (0.7%) an hour later.
Shameless
rounded out the evening with 1.55m (9.6%) from 10pm and 154k (1.8%) on timeshift.
Extraordinary Dogs
sniffed out 663k (2.8%) on Channel 5 from 7.30pm, before documentary
Stanstead: The Inside Story
fetched 1.14m (4.7%).
CSI
and
CSI: Miami
brought in 2.3m (9.2%) and 1.29m (7.5%) respectively from 9pm.
Overall, BBC One dominated primetime with 23.9% against ITV1's 12.4% (+1: 0.3%). BBC Two came third with 7.1%, followed by Channel 4 with 6.7% (+1: 0.8%) and Channel 5 with 5.7%.
Elsewhere,
Junior Doctors: Your Life In Their Hands
treated 1.44m (5.8%) on BBC Three in the 9pm hour, by far the biggest multichannel audience of the night.
BARB ratings data supplied by Attentional