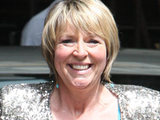 Fern Britton's new chatshow on Channel 4
opened with almost 1 million viewers at teatime on Monday, according to the latest audience data.
The first episode of
Fern
, featuring interviews with Miranda Hart and Jimmy Doherty, averaged 990k (7.8%) for Channel 4 in the 5pm hour.
Neil Morrissey: Care Home Kid
- a documentary about the actor's experiences in the British care system - was seen by 1.92m (7.6%) on BBC Two from 9pm.
Also in the 9pm hour,
Waking The Dead
grabbed 5.57m (22%) on BBC One, beating
Law & Order: UK
's 3.83m (15.1%) on ITV1 and 167k (0.9%) on +1. Earlier on ITV1,
The Dales
entertained 4.33m (17.1%) from 8pm.
Elsewhere on BBC One,
Bang Goes The Theory
educated 3.1m (14.3%) from 7.30pm and
Panorama: The Big Squeeze
mustered 3.52m (14.4%) from 8.30pm. Comedy
Mrs Brown's Boys
amused 3.01m (20.5%) from 10.45pm.
On BBC Two,
Chilean Miners: What Happened Next
fetched 930k (4.5%) in the 7pm hour.
University Challenge
and
Raymond Blanc's Kitchen Secrets
cooked up 2.58m (10.6%) and 2m (8.2%) respectively in the 8pm hour.
Never Mind The Buzzcocks
had 1.31m (6.4%) from 10pm.
Dispatches: BP - In Deep Water
fetched 570k (2.3%) from 8pm, before
One Born Every Minute
took 2.44m (9.6%) from 9pm and 493k (2.7%) an hour later.
Heston's Fairytale Feast
served up 740k (4.3%) from 10pm and 146k (1.8%) on +1.
The Event
grabbed 340k (4.1%) from 11.15pm.
Channel 5's
How Do They Do It?
mustered 605k (2.8%) from 7.30pm, before
The Gadget Show
switched on 1.03m (4.2%) in the 8pm hour. A screening of
You Don't Mess With The Zohan
was watched by 1.12m (5.5%) from 9pm.
Overall, ITV1 won primetime with 23.5% (+1: 0.4%) against BBC One's 22%. BBC Two came in third with 7%, followed by Channel 4 with 5% (+1: 0.9%) and Channel 5 with 4.2%.
Elsewhere,
Glee
averaged 1.41m (5.6%) for E4 from 9pm and 247k (1.4%) on +1.
Thailand, Tourism and The Truth: Stacey Dooley Investigates
grabbed 777k (3.1%) on BBC Three from 9pm.
BARB ratings data supplied by Attentional