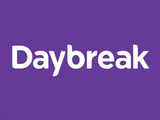 Daybreak
editor
Ian Rumsey
has hit back at criticism of the show from a former GMTV executive.
Peter McHugh, the ex-director of programming for the axed breakfast show,
claimed that ITV needs to change the current programme because the audience does not like it
. However, writing in
The Guardian
, Rumsey said that he has "learned that, when it comes to
Daybreak
, memories can be selective".
"Launching a new breakfast show is a hazardous endeavour," he wrote. "But it's also led me to do some research. And I discovered that when GMTV started, the response was vitriolic."
Highlighting several negatives reviews of GMTV when it first launched, Rumsey added that McHugh "knows this", before adding an extract from a review he had written about GMTV in 1993, in which he described it as "probably the most disastrous launch in history".
He continued: "In the run-up to
Daybreak
, I made it clear that quite a few things would change. But I was also clear that some things wouldn't. The best breakfast show in the world,
The Today Show
in America, has been served pretty well by the same mix for decades.
"Our aim is to make an engaging programme which has a mix of great entertainment and fun, human interest and credible news, with some distinctive journalism that both appeals to the existing audience and also welcomes in new viewers. And already we have seen gains with younger viewers and ABC1s as well as building on our share of housewives with kids. That is the crucial audience for us and we're now regularly above GMTV, year-on-year."
Rumsey insisted that the team knew it would "take time" for the audience to accept
Daybreak
but said that signs - including instant feedback from social networking websites - are "encouraging".
"
Daybreak
has seen steady and consistent growth in audiences. Since the turn of the year, there has been month-on-month growth of around 10%, compared with a 2% drop experienced by GMTV over the previous year - and so far, March has been the most successful month for
Daybreak
since launch."
Responding to criticism directed at the show's presenting duo, he said: "Adrian Chiles and Christine Bleakley have been a breath of fresh air in the mornings and care about the show enormously. Alongside a terrific team of presenters and correspondents, they give
Daybreak
a unique point of difference in a breakfast television landscape that is a great deal more crowded than the environment in which GMTV launched.
"We've been knocked, and knocked hard, but every day the team has come back stronger. As with many new shows - especially those that launch as a live, five-day-a-week operation - there are elements that haven't worked as well as we'd have hoped. But we've listened to feedback from the audience, made adjustments and invested in the editorial where necessary. We will continue to do so."
Rumsey added that the show has "the foundations in place" which will see
Daybreak
"flourish".
"In 20 years' time I may even be asked to write a critique of whatever show fills ITV's early morning slot," he concluded. "I've saved a lot of the past seven months' cuttings. It'll all help me to remember that history has a way of sometimes repeating itself."
> Bleakley: 'Daybreak has turned a corner'