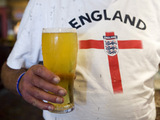 An England friendly international eclipsed the finale of popular legal drama
Silk
on Tuesday evening, the latest audience data has revealed.
Live coverage of England's 1-1 draw with Ghana was watched by an average audience of 6m (24.8%) on ITV1 between 7.30pm and 10.15pm.
In the 9pm hour, series one of
Silk
bowed out with 4.7m (18.6%) on BBC One, while
Katie: My Beautiful Friends
averaged 1.57m (6.2%) for Channel 4 and 274k (1.6%) on +1. Earlier, BBC One's
Holby City
fetched 5.79m (25%) in the 8pm hour.
Over at BBC Two, a repeat of
Wonders Of The Universe
captivated 1.31m (6.1%) in the 7pm hour, before
The Hairy Bikers: Mums Know Best
entertained 2.14m (8.7%) from 8pm.
Bible's Buried Secret
educated 1.27m (5%) in the 9pm hour and
Have I Got Old News For You
amused 1.22m (6.2%) from 10pm.
Fern
stayed chatty on Channel 4 with 930k (6.9%) from 5.30pm and 97k (0.5%) on +1. Later,
Supersize Vs Superskinny Kids
returned with 1.87m (7.%) in the 8pm hour and 236k (0.9%) on timeshift.
Lily Allen: From Riches to Rags
averaged 1.2m (7.1%) from 10pm and 143k (1.6%) on +1.
Extraordinary Dogs
sniffed out 614k (2.7%) on Channel 5 from 7.30pm, before documentary
Tutankhamen: The Mystery Revealed
captivated 827k (3.4%).
CSI
and
CSI: Miami
brought in 2.2m (8.7%) and 1.22m (6.9%) respectively from 9pm.
Overall, ITV1 narrowly won primetime with 23.3% (+1: 0.4%) against BBC One's 23%. BBC Two came third with 6.5%, followed by Channel 4 with 6.1% (+1: 0.8%) and Channel 5 with 5.2%.
Elsewhere,
Junior Doctors: Your Life In Their Hands
remained popular on BBC Three, treating 1.05m (4.1%) in the 9pm hour. New comedy
White Van Man
amused 732k (4.7%) on the channel from 10.30pm.
Katie
, the new reality TV show starring
Katie Price
, attracted 306k (1.2%) to Sky Living in the 9pm hour.
BARB ratings data supplied by Attentional