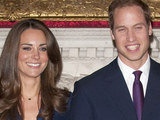 Channel 4 has announced details of its programming surrounding the upcoming royal wedding.
The broadcaster revealed plans for a mixture of documentaries, news programming and a special edition of
Come Dine With Me
to mark the marriage between
Prince William
and Kate Middleton.
Meet The Middletons
will see members of the bride's family, including cousins, aunts and distant relations, discuss the five generations of their clan. The programme is expected to focus on how Middleton's family history differs from Prince William's and has been described as "a revealing social history of the last hundred years of British working life and aspiration".
Dr. David Starkey will host
Kate and William: Romance and the Royals
, which will examine how William's marriage to a "commoner" is not unusual in the history of the monarchy. Meanwhile,
The Unofficial Royal Wedding
will follow 12 people from across the country on the day before the event, on the day of the ceremony itself, and on the day after.
Channel 4 Comedy is expected to commission a one-off show, while the
Come Dine With Me
special will see four royalists attempting to throw the best street party. E4 will air
50 Worst Wedding Shockers
, a list show examining celebrity, television and unusual nuptials.
Channel 4 also promised that a "further very special commission" will be announced at a later date.
The broadcaster's chief creative officer Jay Hunt said: "Channel 4 will be joining in the celebrations with its unique take on the royal wedding. From the mayhem of a
Come Dine With Me
street party to David Starkey's historical perspective on the marriage, we will be using documentary and comedy to offer an alternative perspective on this national event."
The
BBC
,
ITV
and
Sky
have already revealed some details of their royal wedding coverage.