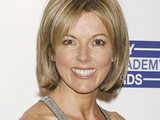 Mary Nightingale
has labelled the celebrity lifestyle as "nonsense".
In an interview with the
Daily Mail
, the ITV Evening News anchor said that a life in the public eye is not for her.
"There is a choice you can make," she told the paper. "You can want to be a firework and are comfortable with fame. You love it and you want to wear nice dresses and do all that stuff.
"I don't want to do things like that. I don't want to draw comparisons with Natasha [Kaplinsky]; I know her, she's a nice girl. But I just think it's a choice you make."
Nightingale continued by saying that she thinks that an anchor's life should not become news itself.
"I don't take to that kind of nonsense," she added. "It was a deliberate policy not to invite
Hello!
into my home. I could have done that stuff and made a lot of money, but I've never regretted not doing it.
"I think you should keep your head down and do your job and shut up... It's the news, it's not about me."
She also revealed that she is able to go about her private life without hassle in spite of the fact that she appears on television every day.
Nightingale is currently hosting
Britain's Best Dish
, which airs on weekdays at 5pm on ITV1. She was also recently named as
part of the channel's team for its coverage of the forthcoming royal wedding
.
> Read our latest TV news