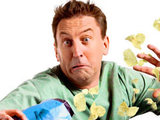 Lee Mack
's Saturday night show
All Star Cast
has been given a full series by BBC One.
The entertainment show filmed a pilot in 2010 which impressed commissioners, so it will now return for a six-episode run.
All Star Cast
features a mix of stand-up, sketches, celebrity guests and music. The twist in the format is that Mack involves audience members in the comedy routines and big musical performances.
Catherine Tate worked on the pilot with Mack, but it is not confirmed whether she will be involved in the full series.
"Blimey, Mr. Saturday Night. I'm going to need a new suit," joked Mack. "The one I've got still smells of a burning mattress... long story."
The show is produced by Zeppotron and Mack's Arlo Productions.
> 'Not Going Out' lands two more series