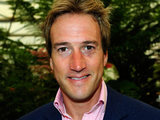 The small island in the Western Isles of Scotland that featured in the BBC reality television series
Castaway
has been put up for sale.
Taransay, made up of two islands linked by a sand bar in the Outer Hebrides, has an asking price of £2 million or above.
In 2000, the 3,445-acre island
provided a home to a group of castaways living self-sufficiently for the BBC series
, including
Ben Fogle, who went on to become a TV presenter
.
John Bound, of property management firm CKD Galbraith, said: "If you've ever dreamt of owning your own island paradise then the Isle of Taransay has it all to offer. The island was put on the map when it featured in the television series
Castaway
which portrayed its true splendour.
"The traditional buildings provide comfortable accommodation and coupled with sporting, farming and holiday letting enterprises, Taransay offers a unique opportunity not to be repeated in a lifetime."
Taransay has been inhabited since around 300 AD, when it was home to Celtic pagans. The island was the site of the Massacre of Taransay in 1544, when the Morrisons of Lewis invaded.
At one stage, Taransay had three villages but its population gradually dwindled, with the last remaining family moving to the mainland in 1974. After renovation, the original buildings on the island have been used as self-catering holiday cottages since 2002.