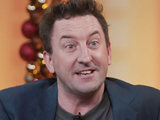 Lee Mack
has admitted that he struggles to watch early episodes of his sitcom
Not Going Out
.
The comedian told
What's On TV
that he "didn't have a clue what [he] was doing" when the BBC series began in 2006.
Mack confessed: "I think, 'I'd never write a joke like that now'. I didn't have a clue what I was doing when we started. It was all about getting as many gags into the script as we could, whereas now we concentrate more on the story and character development."
However, Mack revealed that he is still able to enjoy older episodes of the series, which also stars stand-up comic Tim Vine.
"There was an episode on the other night that was so old I couldn't remember the jokes," he explained. "I watched it like an audience member and actually laughed."
Mack previously admitted to
Digital Spy
that he "
was crowbarring in a lot of jokes
" while writing the first series of
Not Going Out
.
"I'm very proud of the fact that it's story-led now," he said. "Though sometimes there will be a gag that I'm very proud of and I'll sneak it into my stand-up until it's on telly! But it's very rare that it happens now."
Not Going Out
was
commissioned for two more series
back in April, while Mack's new show
All Star Cast
begins this Saturday at 9.40pm on BBC One.