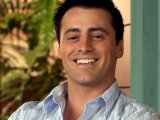 The death knell finally sounded for
Joey
today as NBC unveiled its slate for the 2006-07 season.
The
Friends
spinoff was first pulled by the network in December, then again following its return in March to less-than-impressive ratings. The remaining few episodes may now air over the summer.
Also confirmed for the axe are freshman political drama
E-Ring
, sci-fi series
Surface
and comedies
Four Kings
and
Teachers
.
Few returning series shift around in the new schedule; comedies
My Name Is Earl
and
The Office
move up to the 8pm hour on Thursdays to make way for new Matt Perry drama
Studio 60 On The Sunset Strip
at 9, while
Law & Order
spinoff
Criminal Intent
switches to Fridays at 10.
Deal Or No Deal
gets two weekly airings - Mondays and Fridays at 8 - as reality show
The Biggest Loser
settles at 8 on Wednesdays.
Hotly anticipated supernatural drama
Heroes
has been granted a 9pm slot on Mondays, teaming with
Medium
. Footie drama
Friday Night Lights
, originally tipped for Mondays, has instead been pencilled for Tuesdays, ahead of new mystery drama
Kidnapped
. Two new comedies -
20 Good Years
and
30 Rock
- occupy the 9pm hour on Wednesdays.
Following several lacklustre seasons,
The Apprentice
will only air one cycle in 2006-07. Furthermore, the show is being kept back until January, where it moves to a Sunday night slot at 9pm.
Scrubs
has been renewed for a full season of 22 episodes but won't return until "some point later in the season", NBC said. Ditto for fan favourite
Crossing Jordan
.
More: Click here for the list of returning and axed shows, here for a preview of the new series in the lineup and here for a night-by-night breakdown of the new schedule.