Digital Spy
previews the new shows joining NBC's lineup for 2006-07.
---
Studio 60 On The Sunset Strip
Genre:
Drama
Airs:
Thursdays at 9pm
Cast:
Amanda Peet (
Syriana
), Matthew Perry (
Friends
), Bradley Whitford (
The West Wing
)
Description:
From
West Wing
creator Aaron Sorkin, this series looks at the drama behind the humour of producing a popular, late-night comedy sketch show,
Studio 60 on the Sunset Strip
. Sorkin lays bare the backstage politics, romances and delicate balance between creative talent, on-air personalities and network executives in an instant text-messaging world. Prominent are Jordan McDeere (Peet), a savvy new network entertainment chief who inherits a massive public relations disaster on the series - even before she starts her first day - and Matt Albie (Perry) and Danny Tripp (Whitford), a brilliant creative team that she wants to resurrect the programme.
---
Heroes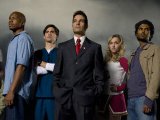 Genre:
Drama
Airs:
Mondays at 9pm
Cast:
Sendhil Ramamurthy (
Blind Guy Driving
), Milo Ventimiglia (
The Bedford Diaries
), Adrian Pasdar (
Judging Amy
), Hayden Panettiere (
Ice Princess
), Ali Larter (
Final Destination
), Noah Gray-Cabey (
My Wife & Kids
), Leonard Roberts (
Buffy the Vampire Slayer
), Santiago Cabrera (
Empire
), Tawny Cypress (
Third Watch
), Greg Grunberg (
Alias
), Masi Oka (
Scrubs
)
Description:
Chronicles the lives of ordinary people who discover they possess extraordinary abilities. As a total eclipse casts it shadow across the globe, viewers follow a genetics professor (Ramamurthy) in India whose father's disappearance leads him to uncover a secret theory - there are people with super powers living among us. A young dreamer (Ventimiglia) tries to convince his politician brother (Pasdar) that he can fly. A high school cheerleader (Panettiere) learns that she is totally indestructible. A Las Vegas stripper (Larter), struggling to make ends meet to support her young son (Gray-Cabey), uncovers that her mirror image has a secret. A prison inmate (Roberts) mysteriously finds himself waking up outside of his cell. A gifted artist (Cabrera), whose drug addiction is destroying his life and the relationship with his girlfriend (Cypress), can paint the future. A down-on-his-luck beat cop (Grunberg) can hear people's thoughts, including the secrets of a captured terrorist. In Japan, a young man (Oka) develops a way to stop time through sheer will power.
---
Friday Night Lights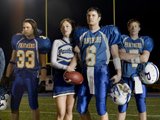 Genre:
Drama
Airs:
Tuesdays at 8pm
Cast:
Kyle Chandler (
Grey's Anatomy
), Scott Porter (
All My Children
), Gaius Charles (
The Book of Daniel
), Taylor Kitsch (
Kyle XY
), Connie Britton (
24
) , Zach Gilford (
The Last Winter
), Minka Kelly (
What I Like About You
), Aimee Teegarden (
Ned's Declassified School Survival Guide
), Adrienne Palicki (
South Beach
)
Description:
Expanding on the themes from the feature film
Friday Night Lights
, this series centres on the small rural town of Dillon, Texas, where the vaunted 2006 state football championship rings are held in the highest regard. The town's promising high school team, its star quarterback, and newly appointed head coach Eric Taylor (Chandler) feel the mounting pressure of the town's pride and honour riding on their shoulders as a new season kicks off. The fresh cast also includes: Porter as team captain and first-string quarterback Jason Street; Charles as feared running back Brian "Smash" Williams; Kitsch as running back Tim Riggins; Brittonas Taylor's long-suffering wife, Tami; Gilford as third-string quarterback Matt Saracen, and Kelly as Lyla Garrity, Panther cheerleader and Street's girlfriend. Also starring are Teegarden as Julie Taylor and Palicki as Tyra Collette.
---
Kidnapped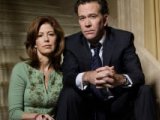 Genre:
Drama
Airs:
Tuesdays at 9pm
Cast:
Jeremy Sisto (
Six Feet Under
), Delroy Lindo (
The Core
), Dana Delany (
China Beach
), Timothy Hutton (
Kinsey
), Mykelti Williamson (
Boomtown
), Linus Roache (
Batman Begins
), Carmen Ejogo (
Lackawanna Blues
), Will Denton (
Palindromes
), Boris McGiver (
The Pink Panther
).
Description:
A high-stakes, serialised thriller in which the teenaged son of a wealthy Upper East Side family is kidnapped and everyone is a suspect. The series focuses on the elaborate, triangulated game between the kidnappers, law enforcement, FBI, and the private negotiating team of the "perhaps" less-than-picture-perfect family.
---
The Black Donnellys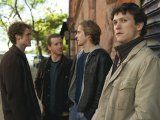 Genre:
Drama
Airs:
Thursdays at 10pm from January 2007
Cast:
Jonathan Tucker (
Texas Chainsaw Massacre
), Billy Lush (
Huff
), Thomas Guiry (
Mystic River
), Michael Stahl-David (
Uncle Nino
), Keith Nobbs (
25th Hour
), Olivia Wilde (
The O.C.
), Kirk Acevedo (
Oz
).
Description:
A gritty new crime drama series loosely based on creator Bobby Moresco's background. The series follows the exploits of four young, working-class Irish brothers and their involvement in organised crime in New York City. Despite their rough surroundings, the Donnelly brothers basically remain "good kids" - who will do anything to protect each other against all odds.
---
Raines
Genre:
Drama
Airs:
Sundays at 10pm from January 2007
Cast:
Jeff Goldblum (
The Lost World: Jurassic Park
), Matt Craven, (
From the Earth to the Moon
), Dov Davidoff (
Third Watch
), Linda Park (
Star Trek: Enterprise
), Nicole Sullivan (
MADtv
), Luis Guzman (
Boogie Nights
)
Description:
Goldblum takes the title role in this inventive police drama, which blends traditional noir storytelling with humour and intrigue. Eccentric LAPD detective Michael Raines' unique ability to have detailed conversations with deceased crime victims allows him to re-trace their lives leading up to their murder and helps him to solve their cases. Unfortunately, it also causes increasing friction with his boss, Captain Daniel Lewis (Craven), fellow officers Remy Boyer (Davidoff) and Sally Lance (Park), as well as civilian employee Carolyn (Sullivan). Aided by Charlie (Guzman), his ex-LAPD partner and conscience, Raines struggles to accept his peculiar gift - or burden - as it often forces him at times to confront his own past and internal demons.
---
20 Good Years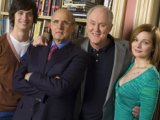 Genre:
Comedy
Airs:
Wednesdays at 9pm
Cast:
John Lithgow (
3rd Rock from the Sun
), Jeffrey Tambor (
Arrested Development
), Heather Burns (
Bewitched
), Jake Sandvig (
The Story of Us
)
Description:
This high-energy comedy follows two New Yorkers who have finally realised that life doesn't last forever. Mismatched buddies John Mason (Lithgow), an impulsive, thrice-divorced surgeon who has been forced into retirement -and Jeffrey Pyne (Tambor), a widower judge who agonizes over every situation - are polar opposites in every way. The one thing the duo can agree on is that they only have about 20 good years left and both men vow to live each day as if it were their last - with no regrets. Also stars Burns as John's pregnant daughter Stella, and Sandvig as Hugh, Jeffrey's un-motivated son.
---
30 Rock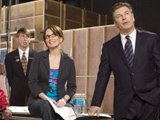 Genre:
Comedy
Airs:
Wednesdays at 9.30pm
Cast:
Tina Fey (
Saturday Night Live
), Alec Baldwin (
The Aviator
), Tracy Morgan (
Saturday Night Live
), Rachel Dratch (
Saturday Night Live
), Scott Adsit (
Kicking and Screaming
), Jack MacBrayer (
Arrested Development
)
Description:
Fey writes, executive-produces and stars in this workplace comedy that takes viewers behind the scenes of a frenetic television variety show. Single Liz Lemon (Fey) is living every comedy writer's dream. She's head writer on a demanding, live TV programme in New York City whose life is jolted when a brash new network president (Baldwin) interferes with her show and bullies Liz into convincing Tracy Jordan (Morgan), a wild and unpredictable movie star, to join the cast. Now Liz must manage the unmanageable so that the show - and her dream - can go on.
---
Andy Barker, P.I.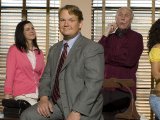 Genre:
Comedy
Airs:
Midseason
Cast:
Andy Richter (
Quintuplets
), Harve Presnell (
Fargo
), Amy Farrington (
The New Adventures of Old Christine
), Tony Hale (
Arrested Development
), Marshall Manesh (
Will & Grace
), Ion Overman (
The L Word
)
Description:
Andy Richter re-teams with co-writer and executive producer Conan O'Brien in this comedy as he portrays Andy Barker, an earnest, hard-working CPA who has succeeded at everything - that is until his new accounting business fails to take off. But when he's mistaken for Lew Staziak (Presnell) - the retired private detective who used to occupy his office - Andy embraces the twist of fate and takes the case. Andy's incessantly supportive wife Jen (Farrington) isn't sold on this risky new venture, that is, until she notices a sudden boost in Andy's self-confidence. Andy's neighboring merchants - Simon (Hale), Wally (Manesh) and Jessica (Overman) join him in the dicey investigation. Whether chiding thugs for "renting instead of buying" or being pursued by Sri Lankan gangsters, Andy will prove to be a consummate problem-solver.
---
The Singles Table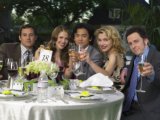 Genre:
Comedy
Airs:
Midseason
Cast:
John Cho (
Harold and Kumar Go to White Castle
), Conor Dubin (
Close to Home
), Jarrad Paul (
The Shaggy Dog
), Rhea Seehorn (
Modern Men
)
Description:
A group of witty and single strangers - Ivan (Cho), Eli (Dubin), Adam (Paul) and Stephanie (Seehorn) - meet at a wedding and suddenly realise they have one thing in common, they are each a party of one stuck at a remote singles table. Because of their solo status and tenuous relationships with the bride and groom, they are all destined for Table 18, a far corner of the wedding reception. But through the course of the party, each emotionally vulnerable person questions his or her life's issues and vows to make it better. For richer or poorer, these five kindred spirits will grow to become good friends - and, in some cases, they may become more than that.
---