TV News
Preview: New shows in the ABC lineup
Digital Spy
previews the new shows joining ABC's lineup for 2006-07.
---
Brothers & Sisters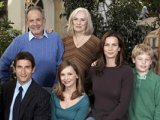 Genre:
Drama
Airs:
Sundays at 10pm
Cast:
Calista Flockhart (
Ally McBeal
), Ron Rifkin (
Alias
), Balthazar Getty (
Alias
), Rachel Griffiths (
Six Feet Under
), Dave Annable (
Reunion
), Patricia Wettig (
Prison Break
), John Pyper-Ferguson (
Smallville
), Sarah Jane Morris (
Felicity
), Jimmy "Jax" Pinchak (
CSI
)
Description:
The adult children of William Walker, along with their respective families, have gathered to celebrate Kitty's birthday. Little do they know that, on this day, their lives will take a dramatic turn. Kitty's radio success has led to a TV pundit job in Los Angeles, but her New York boyfriend just proposed. Down to earth Thomas has joined forces with his sister, Sarah, a high powered executive and mother of three, in an effort to fix the family business. Kevin's well-ordered life is shaken by the news that his ex-wife is moving his adolescent son to Texas. Justin, a Gulf War vet, has kicked nicotine, but other addictions keep him from moving forward in his career and love life. These siblings are about to find out that underneath the idyllic family facade lie many secrets that threaten to either tear the family apart or bring them closer together.
---
Day Break
Genre:
Drama
Airs:
Midseason
Cast:
Taye Diggs (
Rent
), Meta Golding (
JAG
), Moon Bloodgood (
Eight Below
), Victoria Pratt (
Mutant X
), Ramon Rodriguez (
Rescue Me
), Adam Baldwin (
NCIS
)
Description:
We've all had bad days... the kind of day where nothing goes our way and we just can't wait to put it behind us. Detective Brett Hopper (Diggs) is having one of those hellacious days... only he can't put it behind him because he's living the same day over and over again. On this particular day, Hopper will be accused of killing Asst. DA Alberto Garza. He will offer a solid alibi which no one will believe. He will realise he's been framed. And he will run, discovering en route that not only he, but his loved ones, are also in danger. He'll then wake up and relive the same day over and over again. In order to break the cycle and move on, he will have to figure out who framed him and solve the complex mystery surrounding Garza's death. He will also be forced to heal the fractured relationships with those he loves. Only when Harper figures out why his life is broken and how to fix it will he awaken to a brand new day.
---
Men In Trees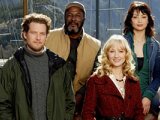 Genre:
Drama
Airs:
Fridays at 9pm
Cast:
Anne Heche (
Nip/Tuck
), James Tupper (
Gilmore Girls
), Suleka Mathews (
The West Wing
), Derek Richardson (
Felicity
), Emily Bergl (
Gilmore Girls
), Abraham Benrubi (
ER
), Sarah Strange (
Life As We Know It
), Seana Kofoed (
Law & Order
), John Amos (
The West Wing
)
Description:
Finding a good man in today's world isn't as difficult as some women think. You just have to watch out for the signs. You wouldn't drive with a blindfold on but, for some reason, women continue to date with one. Relationship coach Marin Frist (Heche) knows what to look for, what to avoid and what will make her happy. As the many fans of her two bestselling books could tell you, we're all in charge of our own happiness. Marin's personal happiness includes the upcoming wedding to her "perfect man." But like many people full of advice, she fails to apply it to herself. On her way to a speaking engagement in Alaska, she learns that her fianci has cheated on her... the wedding plans are instantly over. Slapped in the face with personal failure, a snowstorm then leaves her stuck in a small town full of the one thing she really doesn't need -- available men. Marin's friends and her publisher try to lend long-distance support, but the fact remains she's been living with her eyes closed for too long. Now that they're finally open, she sees the amazingly beautiful world surrounding her, and for the first time she'll have the chance to stop and breathe. Now if she could just get the raccoon out of her hotel room, this place might be perfect.
---
The Nine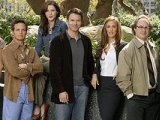 Genre:
Drama
Airs:
Wednesdays at 10pm
Cast:
Chi McBride (
Boston Public
), Jessica Collins (
CSI
), Tim Daly (
Wings
), Kim Raver (
24
), Scott Wolf (
Party of Five
), John Billingsley (
Star Trek: Enterprise
), Lourdes Benedicto (
24
), Camille Guaty (
Prison Break
), Owain Yeoman (
Troy
), Dana Davis (
Veronica Mars
)
Description:
So much in life is beyond your control. You may g about your day like any other when suddenly a random moment, an accident, a blessing, even a stranger redirects your life forever. And on that day, it's up to you to decide if that moment will stop you in your tracks or lift you up to new heights. Nine people will face just such an unexpected twist when they are caught in a bank robbery gone wrong and endure a 52-hour hostage standoff that will leave more than one person dead. When all is said and done, these people will never be the same. They will share the common bond of what happens inside the bank and will be forever affected and intertwined because of it.
---
Six Degrees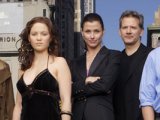 Genre:
Drama
Airs:
Thursdays at 10pm
Cast:
Jay Hernandez (
Friday Night Lights
), Bridget Moynahan (
I, Robot
), Hope Davis (
Proof
), Campbell Scott (
Loverboy
), Dorian Missick (
Lucky Number Slevin
), Erika Christensen (
Traffic
)
Description:
Who will you touch? Who will touch you? They say that anyone on the planet can be connected to any other person through a chain of six people, which means that no one is a stranger... for long. In this hour-long drama from the producers of
Lost
and
Alias
, six very different New Yorkers go about their lives without realising the impact they're having on one another - yet. A mysterious web of coincidences will gradually draw these strangers closer, changing the course of their lives forever. Is it happenstance? Fate? Is there a greater force at work in our world, guiding us along and connecting our lives? This intriguing tale of intertwined destinies reminds us that romance, success, peace or forgiveness might be right around the corner, but they can also be lost in an instant. It's a story that underlines just how small the world really is, and how someone just five people away might be shaping our future right now.
---
Traveller
Genre:
Drama
Airs:
Midseason
Cast:
Matthew Bomer (
Tru Calling
), Logan Marshall-Green (
The O.C.
), Aaron Stanford (
X-Men 2
), Viola Davis (
Law & Order: SVU
), Steven Culp (
Desperate Housewives
)
Description:
Jay (Bomer), Tyler (Marshall-Green) and Will (Stanford) are friends who have spent the last two years in grad school. They are about to depart on a summer trip when a simple prank to rollerblade through one of New York City's most famous museums makes Jay and Tyler prime suspects in a terrorist bombing that destroys the museum seconds later. Hopeful that Will can help clear up this misunderstanding, they learn he's been missing since the explosion and think he may be dead. They're unable to turn to authorities when they realise they can't prove Will even exists. In every photo from the past two years, he has managed to block his face. Who will believe them? Friends, family, lovers? The boys are pawns in a conspiracy that will take years to unravel, and the government may not have their best interests at heart. Their friendship will be tested like never before as they try to uncover the truth, while avoiding detection of not only the FBI, but everyone in America who has seen their faces on TV as suspects in the bombing.
---
Betty The Ugly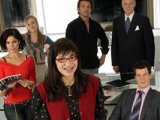 Genre:
Comedy
Airs:
Fridays at 8pm
Cast:
America Ferrera (
The Sisterhood of the Travelling Pants
), Eric Mabius (
The O.C.
), Ana Ortiz (
Boston Legal
), Vanessa Williams (
Chicago Hope
), Tony Plana (
24
), Ashley Jensen (
Extras
), Becki Newton (
Charmed
), Mark Indelicato, Alan Dale (
The O.C.
)
Description:
In the superficial world of high fashion, image is everything. Styles come and go, and the only constants are the wafer-thin beauties who wear them. How can an ordinary girl -- a slightly plump plain-Jane from Queens -- possibly fit in? If you took a moment to get to know Betty Suarez (Ferrera), you'd see how sweet, intelligent and hard-working she is. But few people do because, in the world of fashion, Betty is the oversized square peg in the petite round hole. When publishing mogul Bradford Meade (Dale) hands the reigns of his fashion magazine, Mode, over to his son, Daniel (Mabius), he specifically hires Betty as his son's new assistant - mostly because she's the only woman in NYC Daniel won't sleep with. Though this "player" is reluctant to accept her at first, Betty's indomitable spirit and bright ideas will eventually win him over. Neither of them really knows the ins and outs of the fashion world, but the two of them are a formidable team against the label-wearing sharks who will do anything to see them fail.
---
Big Day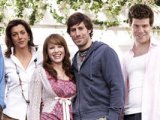 Genre:
Comedy
Airs:
Thursdays at 8pm
Cast:
Marla Sokoloff (
Desperate Housewives
), Josh Cooke (
Four Kings
), Wendie Malick (
Just Shoot Me
), Kurt Fuller (
Desperate Housewives
), Miriam Shor (
Hedwig and the Angry Inch
), Stephen Rannazzisi (
Kitchen Confidential
), Stephanie Weir (
Fun with Dick and Jane
):
Description:
Everything matters at a wedding, and the smallest imperfections can reverberate throughout the event as if lives actually hang in the balance. Choice of side salad? A trivial decision you would think, but for the mother of the bride, this might as well be the most critical decision of her life, and if you're the caterer, you'd better get it right. That's just the beginning -- the maid of honour accidentally drinks the best man's contacts after sleeping with him, and the father of the bride wants to stop the wedding. Things are about to get even more complicated for Danny (Cooke) and Alice (Sokoloff), as their day turns into a season-long roller coaster where nothing goes according to plan. Over the course of an entire season, each episode will focus on one day - Danny and Alice's wedding day.
---
Help Me Help You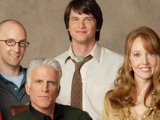 Genre:
Comedy
Airs:
Tuesdays at 9.30pm
Cast:
Ted Danson (
Cheers
), Charlie Finn (
The Dukes of Hazzard
), Jim Rash (
That '70s Show
), Suzy Nakamura (
Dodgeball
), Darlene Hunt (
I Heart Huckabees
), Jere Burns (
Good Morning Miami
), Jane Kaczmarek (
Malcolm in the Middle
)
Description:
Whoever came up with the idea of group therapy? Take a bunch of people who are all really messed up in different ways and put them in a room together to try and help each other out. he group leader, Dr. Bill Hoffman (Danson), is probably the craziest and most self-obsessed of all, but his patients would never know it because he hides behind his very respectable celebrity image as a bestselling author of phenomenally successful self-help books.
---
In Case Of Emergency
Genre:
Comedy
Airs:
Midseason
Cast:
Jonathan Silverman (
The Single Guy
), David Arquette (
Scream
), Greg Germann (
Ally McBeal
), Kelly Hu (
CSI: NY
), Lori Loughlin (
Full House
), Nicholas Roget-King (
Yours, Mine and Ours
)
Description:
Who you were in high school is usually not who you end up being. Harry (Silverman), Jason (Arquette), Sherman (Germann) and Kelly (Hu) all went to the same high school. Several years on since graduation, their lives haven't exactly turned out the way they planned. Diet guru Sherman will hijack a pastry truck and over-indulge after discovering his wife left him and cleaned him out. In the face of a fraud indictment, financial whiz Jason will dodge the suicide bullet only to shoot himself in the foot... literally. Unhappily divorced, Harry goes for a relaxing "massage," only to discover his scantily clad "masseuse" is Kelly, their high school valedictorian. A series of emergencies will reunite this hapless brood and they'll find, at the end of the day, that they've got each other in case of emergency.
---
Let's Rob...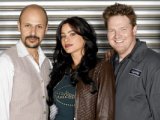 Genre:
Comedy
Airs:
Tuesdays at 9pm
Cast:
Donal Logue (
Grounded for Life
), Maz Jobrani (
Life on a Stick
), Sofia Vergara (
Four Brothers
), Kevin Michael Richardson (
The Boondocks
), Lenny Venito (
NYPD Blue
), Josh Grisetti
Description:
For almost 20 years, Eugene Gurkin (Logue) has dreamt of opening a bar, but his dead end job on the late, late janitorial shift won't even fund a bottle of premium booze. In the wake of a co-worker's death, he catches an episode of television. Call it divine intervention, call it a dumb idea, but whatever it is takes hold of Eugene and soon he recruits a group of misfits into his "gang" for a heist to finance their dreams. The target: Rock icon Mick Jagger's super-luxe Central Park West apartment. Working together, this band of affable, new-age Robin Hoods, who have never even shoplifted a candy bar, are soon casing the joint and prepping for their crime. What they don't know is that there's a much richer target for them... the chance to find hope, self-esteem and confidence within themselves.
---
Notes From The Underbelly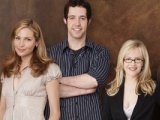 Genre:
Comedy
Airs:
Thursdays at 8.30pm
Cast:
Peter Cambor (
Up to the Roof
), Jennifer Westfeldt (
Numb3rs
), Melanie Paxson (
Cupid
), Rachael Harris (
The West Wing
), Michael Weaver (
Monk
), Sunkrish Bala (
Barbershop
)
Description:
Andrew (Cambor) and Lauren (Westfeldt) have just found out they're going to have a baby, and they're having a difficult time following rule number one - keeping it secret. Suddenly switching to decaf, becoming a teetotaler at cocktail parties, and going to the OBGYN are all difficult to keep from family and close friends. Well Andrew and Lauren are about to learn that, when the secret gets out, the politics of parenthood can be just as demanding as raising a child. Sometimes all that "help" from loving but intrusive parents and "advice" from well-meaning but competitive friends who are trying to show you what great parents they are is not exactly what you're looking for. Knowing what's best for the child could be the easiest part... maintaining your relationships with family and friends can be the real challenge.
---