9
TV News
Peter Andre ITV2 series 'threatened by management split'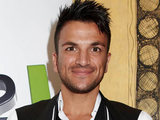 Peter Andre
's ITV2 fly-on-the-wall series has reportedly been threatened by an ongoing divide in his management company.
The singer is said to be reluctant to start work on a new series of
The Next Chapter
after Can Associates joint owners Claire Powell and Neville Hendricks split the organisation.
The rowing pair have divided the company, with Hendricks taking over Can Associates TV,
The Sun
reports.
Andre's hesitation has apparently worried ITV2, who expect to broadcast the new run in October.
"There is some bad blood between the people who ran Can and it's affecting what happens with Pete's series," a source told the paper. "It's causing ITV all sorts of headaches, but they keep pointing to the contract saying they're obliged to turn in a show for autumn. No one knows how it will end - it's a stressful time."
An ITV spokesperson commented: "We expect the series to air this autumn," while a spokesman for Andre added: "Filming will start in August."
> Peter Andre attacks "cynical" press over 'self-promotion' claims
> Peter Andre: 'My Cheryl Cole crush is over'
Listen to Peter Andre's 'Perfect Night' below: