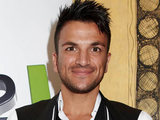 Peter Andre
has confirmed that he will begin filming a new "reality show" very soon.
Reports have suggested that the new series of
Peter Andre: The Next Chapter could be delayed due to a split in the singer's management
company.
Can Associates bosses Claire Powell and Neville Hendricks cut the organisation in half, with the latter retaining control of the TV side of the business.
However, while Andre was unable to discuss the current situation in great detail, he has stated that he will begin filming a programme soon, ahead of transmission in October.
"There was a story in the papers last week saying that my reality show is in jeopardy because my management company has fallen out with the company that makes
Peter Andre: The Next Chapter
, the 38-year-old wrote in his
New!
magazine column.
"I can't really say too much about this at the moment but, don't panic, I will start filming a reality show very soon, which will appear on ITV in October."
> Peter Andre attacks "cynical" press over 'self-promotion' claims
Listen to Peter Andre's 'Perfect Night' below: