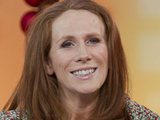 Paul O'Grady,
Frank Skinner
and Catherine Tate are among the stars who have signed up to appear in the second series of Sky Arts'
Fame In The Frame
.
The show sees celebrities dressing as characters from famous portraits and sitting for art forger John Myatt, who tries to replicate the original work.
As Myatt works on the project, he interviews his celebrity guests and reveals his tips for forging and painting. He also talks about the history of the paintings and explains why they have become so popular.
O'Grady has signed up for Myatt's replica of 'American Gothic', Skinner will be painted in the style of Vincent Van Gogh's 'Self Portrait 1888', and Tate will sit for a copy of Joshua Reynolds's 'Sarah Siddons as the Tragic Muse'.
Tamsin Greig, Terry Gilliam and Lauren Laverne will also take part in the series, featuring in Myatt's takes on John Singer Sargent's 'Lady Agnew of Lochnaw', Odilon Redon's 'The Buddha' and Vladimir Tretchikoff's 'Chinese Girl' respectively.
Sky Arts channel director James Hunt said: "We're delighted that the first series was so popular - the second series has had celebrities flocking to have their portrait painted by John Myatt.
"Myatt is a master in capturing the true character of his sitter, making the interviews as insightful and inspiring as the portrait itself."
Ronnie Wood, Stephen Fry, Myleene Klass and James May were among the stars who appeared in the first series of
Fame In The Frame
.
The second series will begin on September 27 on Sky Arts1.
> Read more TV news