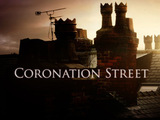 ITV's
The Corrie Years
concluded with nearly 3.6m on Wednesday night, while a repeat of
Sherlock
had 3m, the latest audience data has revealed.
The Corrie Years
, a three-part series recapping the greatest storylines in the soap's 50-year history, finished with 3.58m (20.5%) on ITV1 from 7.30pm and 112k (0.6%) on +1.
On BBC One, a rerun of the
Sherlock
mini-series ended with 3.05m (14.6%) from 8.30pm, while
Lewis
had 3.75m (18.3%) on ITV1 from 8pm and 156k (0.8%) on timeshift.
Elsewhere on BBC One,
The Great British Weather Project
scooped 3.37m (18.6%) from 7.30pm and
Not Going Out
amused 1.85m (14.2%) from 10.45pm.
Rick Stein's Spain
served up 1.13m (6.5%) on BBC Two in the 7pm hour, before a repeat of
Top Gear
revved up 1.42m (7.3%) from 8pm. New series
The Code
captivated 1.34m (6.3%) in the 9pm hour and
QI
appealed to 1.57m (8.4%) from 10pm.
Over at Channel 4,
Jo Frost: Extreme Parental Guidance
interested 1.47m (7.6%) in the 8pm hour and 175k (0.8%) on +1.
24 Hours in A&A
picked up 2.71m (12.7%) from 9pm and 327k (1.9%) on timeshift.
8 Out of Ten Cats
grabbed 1.06m (6%) from 10pm and 175k (1.7%) an hour later.
Garden ER
premiered with 461k (2.7%) on Channel 5 from 7.30pm, before
The Removal Men: Pickfords
was seen by 1.05m (5.5%) in the 8pm hour.
NCIS
had 970k (4.5%) from 9pm, and a screening of
Blade
mustered 729k (5.9%) from 10pm.
Overall, ITV1 just led primetime with 18.6% (+1: 0.7%) against BBC One's 17.4%. Channel 4 came in third with 7.7% (+1: 1.1%), followed by BBC Two with 6.8% and Channel 5 with 4.1%.
Elsewhere,
The Glee Project
entertained 221k (1.1%) on Sky1 in the 8pm hour, and
Benidorm
pulled in 849k (4%) on ITV2 from 9pm and 196k (1.2%) on +1. E4's new show
Beaver Falls
continued with 321k (1.5%) on E4 in the 9pm hour and 176k (1%) on +1.
BARB ratings data supplied by Attentional