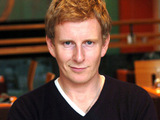 Comedy Central has apologised after airing a repeat which included jokes about
Amy Winehouse
.
The Monday night episode of
Live At The Apollo
, which was originally broadcast several years ago, saw comedian Patrick Kielty making gags about the singer.
According to the
Daily Record
, he described her as "dirty" and said: "She looks like she has p*ssed in more sinks than she has washed in."
However, viewers reportedly complained about the decision to repeat the programme following
Winehouse's death last month
.
Comedy Central has now apologised for broadcasting the show, saying: "We would like to apologise for any distress caused. The airing of this episode was an oversight and all future transmissions of the content have been cancelled."
Microsoft was also
criticised in the wake of Winehouse's passing
after Xbox users were encouraged on Twitter to "honour" her by downloading her album on Zune.
Today, reports have claimed that
Winehouse's home will become the headquarters
for a
foundation in her name
, which is being set up by her father Mitch Winehouse.
> Amy Winehouse 1983-2011: A life in pictures
> Amy Winehouse 1983-2011: Obituary
> Amy Winehouse: A tribute