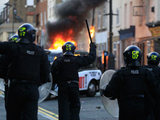 Coverage of the continued unrest across the UK saw
BBC News at Ten
peak with more than 8m viewers on Tuesday evening, while
Chris Lilley
's
Angry Boys
ended with 490k, overnight audience data has revealed.
The BBC's flagship news bulletin averaged 7.61m (33.6%) for BBC One between 10pm and 10.30pm, peaking with 8.09m (34.3%) in the first 15 minutes. The rating was
BBC News at Ten
's highest so far in 2011 and it also eclipsed the
previous night's record of 7.15m
.
ITV News at Ten
saw a slight upsurge in its audience to 2.87m (12.7%) on ITV1 and 166k (0.3%) on +1, while BBC Two's
Newsnight
attracted 1.21m (7.6%) from 10.30pm.
Over at BBC Three,
Angry Boys
concluded with 489k (2.6%) from 10.30pm, one of the lowest ratings of the comedy's debut series.
Geordie Finishing School For Girls
entertained 388k (1.6%) on the channel from 9pm.
The Hour
, starring Dominic West and Romola Garai, averaged 1.64m (6.8%) for BBC Two in the 9pm hour, while 110k (0.5%) watched the show on the BBC HD Channel.
Also on BBC Two, a repeat of
Dragons' Den
mustered 970k (4.7%) in the 7pm hour, before
Restoration Home
captured 2.55m (11.3%) in the 8pm slot and 155k (0.7%) in HD. Hugh Bonneville's mockumentary
Twenty Twelve
tickled 340k (1.5%) from 10pm.
BBC One's
Holby City
entertained 5.07m (22.5%) in the 8pm hour, easily outperforming
Cops With Cameras
's 2.23m (9.9%) on ITV1 and 102k (0.4%) on timeshift.
ITV's
Homes from Hell
also lost out in the 9pm hour, pulling in 1.84m (7.6%) and 160k (0.8%) on +1, against
DIY SOS: The Big Build
's 5.33m (22%) on BBC One.
The Real Sleeping Beauty
, a documentary on teenager Louisa Ball who has a rare condition causing her to constantly fall asleep, was seen by 2.53m (18.5%) on BBC One from 10.45pm.
The Sex Education Show
attracted 1.04m (4.6%) to Channel 4 from 8pm and 143k (0.6%) on +1, while
Undercover Boss
collected 2.22m (9.1%) in the 9pm hour, with 389k (1.9%) tuning in on +1.
Ramsay's Kitchen Nightmares USA
earned 1.11m (5.4%) from 10pm and 201k (1.7%) an hour later.
Channel 5's
Mexican Food Made Easy
cooked up 421k (2%) from 7.30pm, before
Monster Moves
shifted 769k (3.4%) in the 8pm hour.
CSI: Miami
and
CSI
investigated 1.85m (7.6%) and 1m (4.7%) respectively from 9pm.
Overall, BBC One won primetime with 25.4%, ahead of ITV1's modest 11.8% (+1: 0.5%). BBC Two came next with 6.7%, followed by Channel 4's 6.4% (+1: 1%) and Channel 5's 4.4%.
Elsewhere, coverage of Celtic's clash with Manchester United was enjoyed by 729k (3.3%) on ITV4 from 7pm. More4's feature documentary
Babes In Hollywood
dazzled 394k (2.4%) on More4 between 10pm and midnight.
BARB ratings data supplied by Attentional