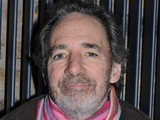 The Simpsons
star
Harry Shearer
has signed up to play Richard Nixon in a new drama for
Sky Arts
.
Nixon's The One
, which has been described as a "comedy drama", has been drawn from the infamous Watergate tapes.
The show, which also stars
The Damned United
's Henry Goodman as Henry Kissinger, will feature lines taken verbatim from the recordings, which were made public in the 1980s.
Shearer and his collaborator Dr Stanley Kutler listened to hundreds of hours worth of material to produce the programme.
"Having grown up in LA, I'd had Nixon in my brain my whole life and it recently struck me that the current portrayals of the man were leaving out the wonderland of his emotional complexity," Shearer said. "To me the key point of the comedy was that these conversations were being held, usually during working hours, by what was then usually described as the most powerful man in the world."
Nixon's The One
's executive producer Jimmy Mulville suggested that viewers will be "genuinely shocked and hopefully amused by some of the opinions expressed by the Nixon White House", adding: "It's a genuinely funny show and a startling historical document."
Meanwhile, Sky Arts' channel director James Hunt said: "The Nixon tapes are probably the most complex and controversial set of records from a US presidency.
"The recordings reveal such a rich picture of a man consumed with egotism, but it is also hugely funny. To have such an intriguing and complex story brought to life by this award-winning cast, and in Nixon's own words, is hugely exciting for Sky Arts."
News of
Nixon's The One
comes shortly after Sky Arts
announced that it will air Italian crime drama Romanzo Criminale
.
Nixon's The One
will be broadcast on Sky Arts in the spring.
> Read more TV news