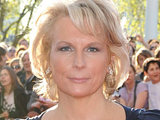 Nearly 30 years after it first aired, the
Comic Strip
is back. Penned by the original writers and starring the classic cast (Rik Mayall,
Jennifer Saunders
, Nigel Planer, Robbie Coltrane), its return is one of Channel 4's most anticipated broadcasts of 2012. The writers and some "special guests" (please be Hagrid!) are expected at the latest MGEITF panel. Stick with
Digital Spy
for all the latest news and chat on the comedy revival.
The live panel starts at 3.15pm...
15:18:
They're blasting out some Take That in the Pentland room ahead of the
Comic Strip
panel. Kirsty Wark kicks off proceedings. We'll have "world premiere" of the show and a look back at the show's canon.
15:19:
Writer Peter Richardson is asked about his memories of 1981. "The cast all went on to their own shows. The
Comic Strip
was the banner we all came under."
15:21:
He claims that comedy is "an exacting thing" and says that he always used to write "for actors". He jokes that they didn't always live up to the challenge, "so we changed them".
15:22:
Richardson points out that they didn't have the normal comedy comfort zone of creating characters that people love. "We'd do something completely different each week." Talking about the C4 commissioners back in the '80s, he adds: "They couldn't be more supportive. It was a great time."
15:24:
Clips time! A look back at classic episodes
The Strike
and
Four Men InA Plane
. Some brilliant young Keith Allen and Rik Mayall moments. Do you remember when Rick Mayall was funny? Blimey, that was a long time ago.
15:26:
We're now getting a clip of
The Hunt For Tony Blair
. The controversial and much-talked about new
Comic Strip
episode. Woo, exciting.
15:30:
"We wanted to do this now before it became history". Clip features Stephen Mangan doing a cracking Tony Blair impression and James Buckley from the
Inbetweeners
. "We wanted fresh talent. We have lots of amazing talent - Jim Broadbent, Miranda Richardson come in and out in the past."
15:32:
Producer Nick Smith says that the show was hard to make because "Peter has such high standards". They didn't finish shooting until the day before pick-up. "Poor old Stepen Mangan's first experience with us was a 24-hour day."
15:33:
Nigel Planner's Peter Mandelson is described as "out of the stratosphere". Richardson applauds legendary stand-up Ross Noble in his first acting role.
15:35:
Talking about the much talked about sex scenes between Mangan's Blair and Jennifer Saunders's Margaret Thatcher, Richardson points out none of it is on screen and that it's left to our imagination. "We had to be careful of taste and decency," he teases.
15:36:
Nick Smith says that there is a "family atmosphere on set" and that Richardson hosts garden parties for all the cast. It all sounds rather smashing doesn't it? We want to be in the
Comic Strip
.
15:37:
Richardson talks about the Michael Grade era at Channel 4. He talks about the loss of Harry Enfield, Vic and Bob and the
Comic Strip
crew that made the channel so strong in the '80s. He claims that the new C4 bosses are great, but points out that they are sitting on the front row.
15:42:
Richardson says that there is definitely comedy in the coalition, but says, "I don't know what it is yet". He continues: "Blair thing came out of the blue. We just thought, wouldn't it be great to do a chase film."
15:43:
He sings more praise for Ross Noble in the new
Comic Strip
episode. "Ross Noble has fantastic eyes. You get the sense he's a great actor. He's very expressive," says Richardson.
15:40:
Commenting on the state of comedy on TV, Richardson claims that "Channel 4 have traditionally looked out for new talent", but argues that across the board: "It's almost been an overdose of comedy. Everyone is scouring the clubs for the next big thing, the next Eddie Izzard."
15:45:
Q&A time. First question: "Why did you have Gordon Brown shoot Tony Blair up the arse?" We are still talking about the
Comic Strip
by the way! Richardson explains: "It's just a fun thing. It's a funny situation. He doesn't mean to shoot him in the arse. He's just not very good. Mandelson says the line, 'Brown just shot Blair up the arse'. I just find that line funny."
15:47:
Commenting on the controversial use of the late Robin Cook and John Smith as comic devices in the show, Richardson adds: "Yes I do worry about the John Smith and Robin Cook thing. It's all well documented in Tony Blair's book. Because there's no suggestion that he murdered these people, and that the idea is ridiculous and not true means we could do it. We couldn't do anything on David Kelly because it was too real, too serious."
15:50:
Richardson reveals that he worked with Stephen Mangan 15 years ago on a Coca-Cola commercial immediately after the
Green Wing
star left drama school. "I had an instinct that he would be great for the role, before I even met him again. I knew I wanted him even before his audition," says Richardson. "He has a great smile."
15:54:
There are some technical questions about how the show was shot in black and white. Sorry my fingers aren't fast enough to get you the camera details. I shouldn't think you'd care.
15:55:
"I thought the
Inbetweeners
was great. I think it's brilliantly acted and well written," says Richardson, when asked about his favourite new comedy shows.
15:56:
Richardson claims that Nigel Planner "steals the film" in the
Hunt For Tony Blair
.
15:59:
We're just about to close the panel, but time for one more teaser. Apparently there are more
Comic Strips
in the pipeline. "I think we're already planning more stuff for Channel 4.
Five Go To Rehab
, we've already started working on. The Famous Five 30 years later. They all bump into each other and think it's a hotel. That will just be a one-off."