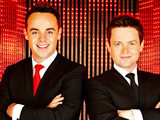 Ant & Dec burst back onto ITV1 on Saturday night, as Simon Cowell's
latest brainchild Red or Black?
goes live to the nation.
The series will be spread across seven nights over the coming week, as contestants hope their luck will help them win £1m. Early stages of the competition kicked off during the summer, when Wembley Arena played host to some of the elaborate set-ups.
Those who progressed took part in further games staged at famous locations around the country - including London's Battersea Power Station. As previously revealed, one game
saw Louis Walsh send David Hasselhoff flying 230ft into the air
in a reverse bungee.
Speaking about his role in pushing the detonator,
X Factor
judge Walsh said: "It was fun to get to fire The Hoff. It was the first time I've ever seen him lost for words! He was very scared, but fair play to him for having a go - I wouldn't do it.
"He flew up so high and was just hanging there. You wouldn't catch me doing something like that; I like to keep my feet firmly on the ground!"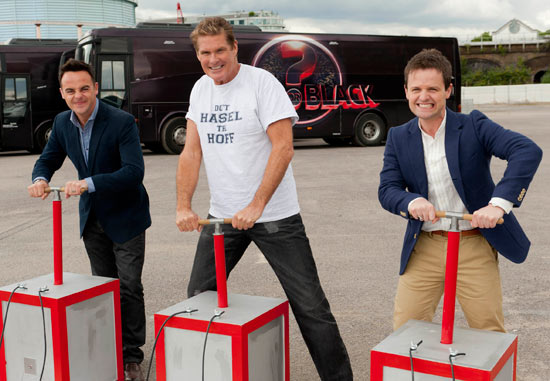 Further games played, of which the outcome is always red or black, include 'Jack In The Box' and 'Drive Thru', for which teaser pictures can be seen in the gallery below.
As the show goes live on Saturday night, the number of contestants will continue to be whittled down, until just one stands the chance to win the top prize.
The first live show will see Leona Lewis
perform her new single 'Collide'
. The 26-year-old singer will also take part in a surprise studio game.
Red or Black?
kicks off on Saturday at 7pm and 9.15pm on ITV1.
> Red or Black? will be unmissable TV, say Ant & Dec
> Ant & Dec's Red or Black? takes over Coronation Street