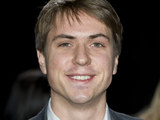 Joe Thomas
has joked that he is able to play young roles because he still looks like a "virgin".
The 27-year-old, who previously starred in
The Inbetweeners
, is currently appearing in Channel 4's comedy
Fresh Meat
.
The show
focuses on a group of students living in a house together
and Thomas has now told
The Sun
that he is often asked to play someone younger than himself.
"I think I stopped maturing quite a long time ago, physically at least," he joked. "I've never been cast as someone who has sex."
Thomas added: "This face screams 'virgin', apparently - which is good to know."
Fresh Meat
's writers Sam Bain and Jesse Armstrong recently
insisted that they do not "censor" themselves
when they are writing the show.
Fresh Meat
airs on Wednesday at 10pm on Channel 4.
> Jack Whitehall Fresh Meat interview: 'I play a posh idiot'