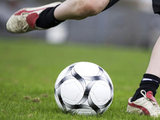 BBC Two's coverage of Scotland versus Spain appealed to 2.8m on Tuesday evening, while
Don't Tell the Bride
again scored for BBC Three, overnight data has revealed.
Live coverage of Scotland's loss to world champions Spain in the Euro 2012 qualifiers averaged a solid 2.81m (12.3%) for BBC Two between 7.30pm and 10pm. Afterwards,
Later Live With Jools Holland
delighted 850k (4.6%).
The new series of
Don't Tell The Bride
again proved popular on BBC Three, tying the knot with a healthy 1.19m (5.1%) in the 9pm hour.
Also in the 9pm slot, crime drama
The Body Farm
continued with 4.65m (20.1%) on BBC One, easily beating
71 Degrees North
's 2.24m (9.7%) on ITV1 and 189k (1.1%) on +1.
Elsewhere,
Mayday Mayday
fetched 2.61m (11.8%) on ITV1 from 7.30pm. Jeremy Kyle's
High Stakes
had 2.19m (9.5%) in the 8pm hour, but lost out to
Holby City
's 5.58m (24.4%) on BBC One.
Me, My Sex and I
had 2.26m (18.6%) on BBC One from 10.45pm.
Gok's Clothes Roadshow
styled 1.92m (8.4%) on Channel 4 from 8pm and 164k (0.7%) on +1. New show
Mary Queen of Frocks
averaged 1.91m (8.2%) in the 9pm hour, and 179k (1.1%) an hour later, before new
Shameless
fetched 1.25m (7.5%) from 10pm and 115k (1.3%) on timeshift.
Real Food Family Cook Off
served up 332k (1.5%) from 7.30pm.
Superior Interiors with Kelly Hoppen
launched with 642k (2.8%) in the 8pm slot, before
CSI: Miami
investigated 1.58m (6.8%) from 9pm.
Big Brother
entertained 1.31m (7.7%) in the 10pm hour.
Overall, BBC One won primetime with 24.1%, ahead of ITV1's modest 12.3% (+1: 0.6%). BBC Two came next with 10%, followed by Channel 4 with 6.9% (+1: 0.7%) and Channel 5 with 4.4%.
Elsewhere,
World's Strictest Parents
entertained 494k (2.2%) on BBC Three from 8pm and comedy
Wilfred
amused 342k (2.3%) from 10.30pm.
Treasures of Chinese Porcelain
delighted 538k (2.3%) on BBC Four from 9pm.
BARB ratings data supplied by Attentional