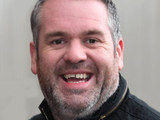 Chris Moyles
and Stacey Solomon have signed up to host Sky Living's new dating show.
The Love Machine
, filmed in front of a studio audience, will focus on a huge "dating machine" containing single men and women.
Couples will choose each other based solely on attraction, before two of the new pairings battle it out by tackling issues such as sex, money and chemistry.
The winning couple - who have the choice to drop their date for an "upgrade" - will be sent on a holiday for two.
Sky's head of entertainment Duncan Gray has described the series as "funny, entertaining, and at times painfully honest".
Moyles said he is "really excited" about working on the show, saying: "It's all the awkwardness of a giant speed dating event but in front of a live studio audience and on the TV."
Meanwhile, Solomon said: "Each contestant will only have a brief glance of who
The Love Machine
picks for them, but I hope we prove that there really can be love at first sight. I'm a big romantic at heart and I can't wait for Chris and I to play cupid each week."
The Love Machine
is due to begin on Sky Living next year.