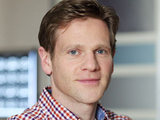 Holby City
helped BBC One to primetime victory last night, according to overnight audience figures.
The medical drama treated 5.37m (22.2%) from 8pm, which was followed by
Death in Paradise
with 4.51m (17.2%).
Imagine
allured 1.18m (10.4%) from 10.45pm.
Even though
I'm a Celebrity... Get Me Out of Here!
entertained 7.46m (28.4%) from 9pm with a further 613k (3.5%) on ITV1+1,
The Adventurer's Guide to Britain
and
High Stakes
could only summon 2.75m (11.7%) from 7.30pm and 2.04m (8.5%) from 8pm respectively.
Over on ITV2, 802k (4.9%) caught
I'm a Celebrity... Get Me Out of Here Now!
from 10pm (+1: 102k/1.2%), while
The Vampire Diaries
glamoured 368k (1.4%) an hour earlier (+1: 193k/1.1%).
BBC Two's
Heir Hunters
was watched by 1.7m (7.43%) from 7pm, with
MasterChef: The Professionals
and
Ian Hislop: When Bankers Were Good
following afterwards cooking up 2.96m (12.2%) and 2.15m (8.17%) respectively.
Later Live... with Jools Holland
wrapped it up with 964k (4.8%).
The Food Hospital
served 1.63m (6.8%) from 8pm on Channel 4 (+1: 163k/0.6%),
Jamie's Great Britain
gathered 1.09m (4.2%) from 9pm (+1: 230k/1.3%) and
My Transsexual Summer
was seen by 1.01m (5.9%) from 10pm (+1: 178k/2%).
Channel 5's
How to Take Stunning Pictures
flashed 319k (1.4%) from 7.30pm and
London: The Inside Story
aired to 892k (3.7%).
David Caruso
's
CSI: Miami
picked up 1.3m (4.9%) from 9pm, with a repeat episode from the original
CSI
rounding primetime off with 921k (5.1%).
Overall, BBC One won the night with 21.8%, besting ITV1 which had 18.4% (+1: 0.9%). BBC Two grabbed a share of 8.5% followed by Channel 4 with 4.8% (+1: 0.7%). Channel 5 secured 3.6%.
Elsewhere, BBC Three show
Don't Tell the Bride
earned 766k (2.9%) from 9pm, and comedy
Him & Her
amused 584k (3.8%) from 10.30pm.
BARB ratings data supplied by Attentional