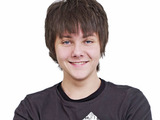 Outnumbered
may not return for another full series, its star
Tyger Drew-Honey
has revealed.
The 14-year-old claimed that although the BBC family sitcom is scheduled to return for Comic Relief and Christmas specials in 2012, bosses fear that its cast may be too old for the show to still work.
Drew-Honey's co-stars Ramona Marquez (Karen) and Daniel Roche (Ben) will be 11 and 12 years old next year.
"There's a special on Christmas Eve. Next year there'll be a Comic Relief special and maybe another Christmas special. The year after that there could be another series. I think they don't want to dive in this year and do a whole series because it might not work with the kids getting older," he told
The Sun
.
On what viewers could expect from the upcoming festive episode, Drew-Honey explained: "My character has a hangover. Grandad's in hospital and we all go and visit him. The last Christmas special ended with a bit of a sing-song so there's another one of them."
Drew-Honey previously predicted that
Outnumbered will only continue for one more series
.
> Hamilton: 'BBC worried about Outnumbered'
Watch a classic
Outnumbered
clip below: