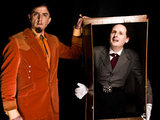 Surreal comedy
This Is Jinsy
has been granted a second series by Sky Atlantic.
Creators Chris Bran and Justin Chubb won critical acclaim for their show earlier this year. It was originally dropped by BBC Three after only a pilot aired.
Sky's head of comedy
Lucy Lumsden
said: "I can't wait to travel back to the wonderful island of Jinsy for another series of insanely brilliant comedy. Chris and Justin's creation is the perfect fit for Sky Atlantic HD and its wealth of unique story-telling."
Executive Producer Chris Carey added: "We are thrilled that Sky Comedy is bringing
This Is Jinsy
back to Sky Atlantic. Series two will be bigger, better and funnier. More songs, the return of our titanic tag team of director Matt Lipsey and editor Charlie Phillips, but most importantly another opportunity for Chris and Justin to put on wigs and generally tit around with stuffed animals."
Eight new episodes will be produced next year for transmission in 2013.
David Tennant, Harry Hill, Catherine Tate, Jennifer Saunders, Jane Horrocks, Simon Callow and Peter Serafinowicz all guest starred in the first series earlier this year.
> Spy handed second series by Sky1
Watch a clip of
This Is Jinsy
below: