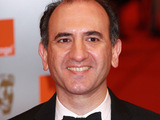 Subscription broadcaster
Sky
won its first two British Comedy Awards last night.
Darren Boyd took home 'Best Comedy Actor'
for
Spy
, while Victoria Wood won 'Best Female Television Comic' for her
Angina Monologues
. Both shows are broadcast on Sky 1.
Boyd said Sky executives were "really nurturing shows and scripts that they believe in". A second series of
Spy
has now been commissioned.
The broadcaster had a total of five nominations, with
An Idiot Abroad
and Sky Atlantic's
This Is Jinsy
also up for gongs.
Armando Iannucci
, winner of the 'Writers' Guild of Great Britain Award', said that "there were no pre-conditions' for taking
Alan Partridge
to Sky Atlantic".
He continued: "I've done stuff with Sky News, Sky Arts is fantastic and Sky Atlantic is great. For years people have been having a go at them for making all this money and not putting it into home-grown, home-based production. Now they're doing that the last thing we want to be doing is have a go at them."
Iannucci added that the team had "just finished shooting some
Alan
" this week.