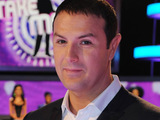 ITV bosses have reportedly become infuriated over the string of
Take Me Out
scandals that emerged this week.
The show came under fire after the revelation that contestant
Aaron Withers
was
convicted of assault last year and used to work as an escort
, which was followed by his date Wen-Jing Mo's admission that she
was once a £200 per-hour prostitute
.
Senior figures at ITV are said to have blamed the controversy on
Take Me Out
production company Talkback Thames, accusing them of failing to uncover the pair's "extremely embarrassing" pasts during background checks.
"These revelations are being taken extremely seriously. It is infuriating to be learning about a different scandal every day," an insider told
The Mirror
. "Letting these types of people on to what is supposed to be an early evening family show is totally unacceptable. Things need to change - and fast.
"The ITV brand is being dragged through the mud. The experienced people who are making these shows have been left in no doubt as to the level of disappointment and dismay here. They accept there are ways in which these scandals can be prevented. This whole incident has been extremely embarrassing."
A representative for Talkback Thames confirmed that the company "will be reviewing procedures" in light of the scandal.
The spokesperson added: "During the application process we ask contestants to declare any convictions and background checks are carried out on each individual. Aaron's criminal record did not come to light."
It has been revealed that footage of Withers and Mo on a date will be cut from tomorrow's (January 14) edition of the show.
> 'Take Me Out' Aaron Withers's date: 'He manipulated me into bed'
Watch
Take Me Out
host Paddy McGuinness discuss the show with
Digital Spy
below: