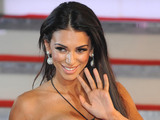 Georgia Salpa's eviction
from the Big Brother house attracted an audience of 1.99m (8.2%) on Channel 5, according to overnight data.
Celebrity Big Brother was followed by
Kate Thornton - Anorexic: My Secret Past
at 10pm, which averaged 616k (3.4%).
Cowboy Builders
and
Benidorm ER
aired earlier with 814k (3.9%) and 1.13m (4.9%) respectively.
Elsewhere, BBC One aired
Rip Off Britain
(4.69m/22.4%),
DIY SOS: The Big Build
(5.19m/22.3%) and
MasterChef
(4.25m/17.6%).
ITV1's primetime coverage mostly consisted of an FA Cup football match, which averaged 3.4m (14.7%).
Piers Morgan's Life Stories
aired to an audience of 986k (9%) from 10.45pm.
BBC Two's
Stargazing Live
continued with 2.73m (11.7%), while
Back to Earth
took 2.42m (10%) and
The Crusades
followed with 1.77m (7.9%).
Hairy Bikers' Best of British
drew 2m (9.5%) from 7pm earlier that night.
On Channel 4,
How to Cook with Heston
served 1.09m (4.8%) from 8pm (+1: 117k/0.5%),
The Fabulous Baker Brothers
took 1.02m (4.3%) from 8.30pm (+1: 130k/0.5%),
One Born Every Minute
had 2.83m (11.7%) in the 9pm hour (+1: 467k/2.6%) and
Talhotblond
averaged 1m (5.8%) afterwards (+1: 181k/2%).
Overall, BBC One came out on top with 20.1%, ahead of ITV1's 15.4 (+1: 0.4%). BBC Two followed with 9.4%, with Channel 4 grabbing 6.6% and Channel 5 ending up with 5.2%.
On the multinationals, the live feed of Celebrity Big Brother on 5* was watched by an impressive 917k (5%).
BARB ratings data supplied by Attentional