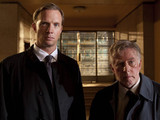 The series premiere of
Whitechapel
exceeded 6.2m last night on ITV1, according to overnight data.
The crime drama managed a decent 6.21m (24.8%) in the 9pm hour (+1: 383k/2.1%) -
up from 5.42m for the 2010 premiere
- to comfortably lead the channel to primetime victory.
Cornwall with Caroline Quentin
took 3.96m (15.8%) earlier from 8pm (+1: 194k/0.8%) and
That Sunday Night Show
drew 871k (5.7%) late from 10.35pm.
David Jason
's
The Royal Bodyguard
closed out the series with a lacklustre 2.81m (11.4%). This was followed by Mrs Brown's Boys (5.39m/21.2%) and preceded by an instalment of Panorama (2.11m/8.3%).
Quiz show
A Question of Sport
attracted 2.67m (17.9%) from 10.35pm.
BBC Two began primetime with a lineup of
Home Cooking Made Easy
(1.15m/5.2%),
A Question of Taste
(1.1m/4.7%),
University Challenge
(2.93m/11.7%) and
An Island Parish
(2.1m/8.3%).
9pm's
Protecting Our Children
pulled in 1.86m (7.4%) and
Mock the Week
took 1.5m (7.5%) from 10pm.
Channel 4's
Superscrimpers: Waste Not, Want Not
averaged 1.22m (4.8%) in the 8pm hour (+1: 247k/1%).
Coppers
delivered 1.79m (7.2%) from 9pm (+1: 309k/1.7%) before
Party Paramedics
had 1.34m (7.4%) from 10pm (+1: 232k/2.5%).
On Channel 5,
World's Toughest Trucker
appealed to 411k (1.8%) before 8pm's
Police Interceptors
took 1.21m (4.8%) and 9pm's
Royal Marines: Mission Afghanistan
had 1.18m (4.7%).
Overall, ITV1 finished the night with 25.8% (+1: 0.8%), considerably ahead of BBC One's 19.2%. BBC Two held third place with 7.4%, beating Channel 4's 5.5% (+1: 0.9%) and Channel 5's 3.8%.
Elsewhere, the
latest Skins
drew 405k (2.3%) on E4 and 9pm's
Britain's Gay Footballers
managed 712k (2.8%) on BBC Three.
BARB ratings data supplied by Attentional