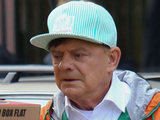 The Royal Bodyguard
will reportedly not be returning for a second series.
The
Sir David Jason
comedy has been dropped by BBC One after poor ratings,
The Sun
claims.
The show
premiered on Boxing Day to around 7m viewers
but the audience
dropped to 2.8m for its final episode
.
"Unfortunately the show just did not work out," a source said. "Ratings fell and it got a mauling in the press. It is highly unlikely that it will return."
Jason has previously
confessed that the team behind the show "didn't quite bring it off"
, while comedian Dave Spikey
recently told Digital Spy
: "Everyone in the country is saying, 'How on earth did The Royal Bodyguard get on television?'"
A BBC spokesperson insisted that no decision about
The Royal Bodyguard
's future has been made.
> Sir David Jason interested in making British Everybody Loves Raymond